GameDev Log - Alpha Demo 2.7 and The Future
---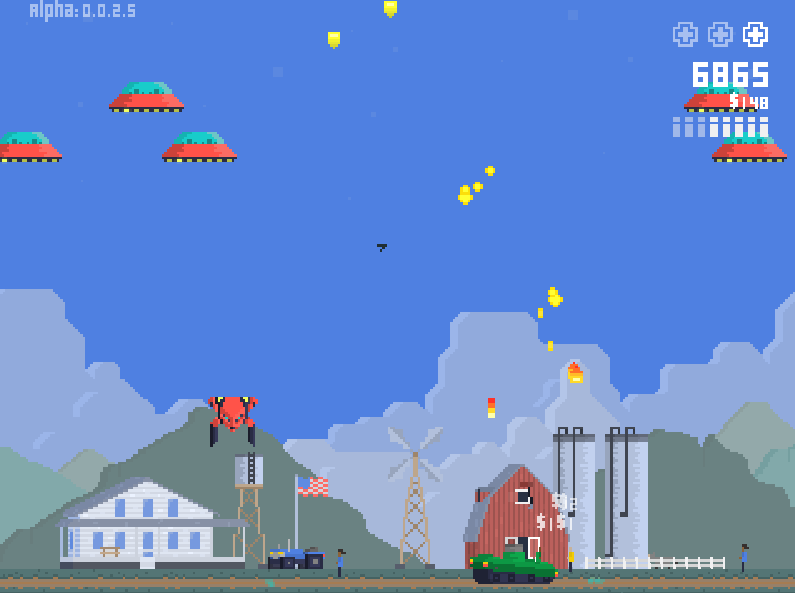 First thing, Pixel Raiders Alpha Demo 2.7 will be released soon on Itch.io. This small update adds support for online leaderboards so you can now show off your prowess at destroying raiders to the world.
Once 2.7 is released I'll be focusing on some big changes to the core game of Pixel Raiders. These changes will dramatically affect some of the main features for the better and have came about thanks to the awesome feedback from those that have played the demo builds.
So what are these changes? Well, I'm getting rid of the abduction mechanic that plays a major theme to the game and I'll be getting rid of the in game currency used to upgrade your tank. I'll also be making some cosmetic changes and tweaks to the core gameplay but that should be expected as the game progresses through the development stage.
The abduction mechanic will be replaced with a new event system. Each level will have it's own unique event that will change small aspects of the gameplay hopefully making each stage more unique. Example of these type of events is having asteroids fall during the moon stage or the roads freezing over after a blizzard in the arctic stage.
Coins will be removed but you will still be able to upgrade your tank. Instead it will all be linked to score. This means whenever you upgrade a part of the tank or a super weapon a small amount will be deducted from your score. Hardcore players will now have a greater challenge in getting the top score.
That's it for just now. I'll be doing more gamedev updates every week that will go into some of the changes in more detail.
Peace out and look out for the release of Pixel Raiders Alpha Demo 2.7!
Play Pixel Raiders Alpha Demo 2.5 here
Itch.Io - https://pixelsword.itch.io/pixel-raiders